21 agosto 2023
Reading time 4 minutes
Kalmar Eco Reachstacker saving fuel at Vollers Hamburg GmbH
Germans drink 169 litres of coffee a year. Behind this figure lies a gigantic logistics operation, with many hundreds of thousands of tonnes of green coffee that need to be cleaned, sorted, packed and transhipped. One of these service providers working in the background is the Vollers Group with 450 employees.
Vollers Group is one of Europe's largest coffee logistics companies. At the Hamburg site, they store, pick, pack, and handle 240,000 tonnes of coffee and cocoa annually. Around 2,000 containers are stored on the company's 18-hectare site with the support of three Kalmar DRG450-65S5 reachstackers to handle the storage and stacking work, while another reachstacker DRG450-65S5 is supporting at the Bremen headquarters.
The newly acquired Kalmar Eco reachstacker, has been supporting the Hamburg site since February 2023. This machine is equipped with a tilt spreader that can handle break bulk cargo weighing up to 32 tonnes in 20ft, 30ft and 40ft containers with a tilt angle of up to 55 degrees.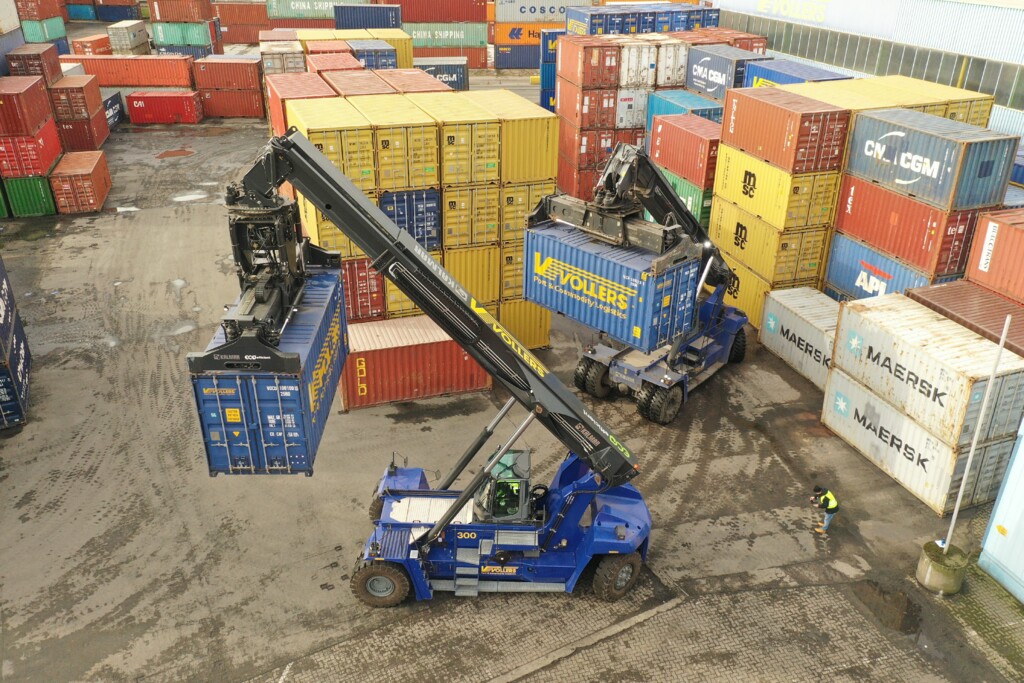 Managing Director Marco Franz, Vollers Hamburg GmbH, explains: "We are a full-service provider and work all year round. Our reach stackers stack the 20' containers five high. The new Eco-Reachstacker can lift/move the containers and use the tilt spreader to load coffee directly into trucks."
Coffee and cocoa are sensitive goods, therefore, gentle handling is the top priority. Customers check their coffee quantities 24/7 via the digital Vollers CRM system "V-Interface" - heavy-duty work for the large forklifts. They perform around 2,500 - 3,000 operating hours per year and remain at Vollers for about 10 years.
Managing Director Christopher Klüß, Vollers Hamburg GmbH, adds: "Sustainability and total cost of ownership are very important to us. The new Kalmar Eco reachstacker consumes about 5 litres less fuel than the existing machines in an hour, so the extra cost pays off quickly and our ecological footprint improves because of the lower CO2 emissions. It is also considerably quieter, which pleases our drivers. The next step is the digital upgrade with tablets. This way, drivers and reachstackers are connected to our ERP system in real time - quantities, quality and container locations are then consistently organised."
Eco reach stacker consumes 5 l/h less
The Kalmar ECO reachstacker stands out with its proven driveline, consisting of the HVT transmission, which combines hydrostatic and mechanical components. This combination allows the use of more efficient engines with the same power output, resulting in fuel and CO² emissions reductions of up to 40%, low-speed precision and traction through direct hydrostatic driveline and high-speed drive with an engaged high-efficiency mechanical drive. This offers three forward and two reverse gears.
Tobias Zink, Sales representative for container handling at Kalmar Germany, has configured the machine together with the customer. The 80t reachstacker is powered by a 235 kW Volvo engine. A special feature is the Dana-Rexroth transmission for efficient handling. Three operating modes allow the power to be adapted to the respective work requirement. The Bromma special spreader allows 55° tilt. In addition, it offers a sideshift of ± 800 mm.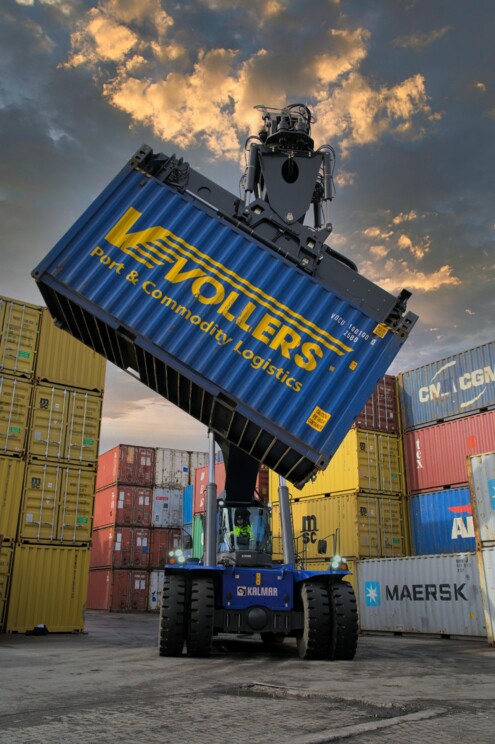 Ergonomics is a top priority at Kalmar and also at Vollers Hamburg GmbH. The EGO cab with electronically controlled air-conditioning has very large windows, giving the driver a perfect view from all angles. Thanks to clearly arranged and ergonomic instruments, levers, pedals, control panels, switches and displays, the driver gains more precise control of the machine. With the Displays, the driver gains more precise control over the work process.

In addition, Vollers ordered:
12 additional maintenance-free LED headlights on the mast and spreader.

Engine shutdown (programmable)

Auxiliary heating

Central lubrication for mast, spreader and base unit

Additional hooks with special positioning on the spreader for big bags and large bundles

Rear view camera and 2 cameras in the spreader.

Training seat in the cabin

Hydraulically adjustable cab for better visibility for different drivers