31 enero 2023
Reading time 3 minutes
Keeping East China Sea cargo moving smoothly and eco-efficiently
Kalmar Eco Reachstackers are easing the load at Ningbo Blue Dragon Logistics, a key distribution provider in one of China's longest-established and largest national development zones.
Ningbo Blue Dragon Logistics was jointly established in 2005 by Ningbo Economic and Technological Development Zone Xunzhou Investment and Maersk Logistics & Warehousing China. Distribution services provided by the company include storage and handling of export cargos, logistics transportation, logistics service design and export management.
The company is registered in Ningbo Economic and Technical Development Zone, which was officially established in 1984 and has become a key location for foreign investment with a highly coordinated transportation system of road, rail, air and sea via the port of Ningbo-Zhoushan, the busiest port in the world in terms of cargo tonnage.
Eco Reachstacker significantly reduces fuel costs
Ningbo Blue Dragon Logistics purchased its first Eco Reachstacker in 2018 and was quickly impressed by the fuel savings, explains Wang Lei, General Manager.
"According to our data comparison between the Eco Reachstacker and traditional reachstackers, the fuel savings rate is around 20%, which means each machine can save more than CNY 100,000 per year on the basis of approximately 4000 running hours for each machine annually," she says.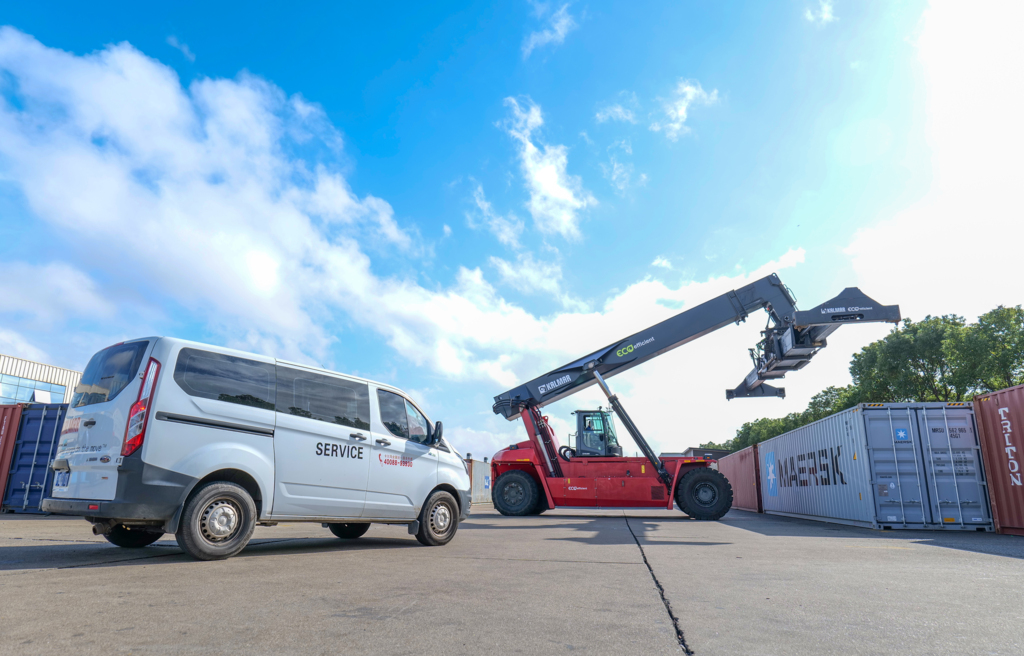 Increasing fuel costs and tougher carbon emissions standards have driven demand for a reachstacker with lower fuel consumption, and emissions that can maintain the highest levels of operational productivity when lifting containers or handling other materials.
Alex Tang, Vice President, Kalmar Greater China, says, "The Eco Reachstacker significantly reduces fuel costs and emissions and is more efficient than traditional reachstackers equipped with bigger engines, delivering positive economic and environmental reputation benefits to our customers."

"Kalmar appreciates our environmental protection goals and has provided us with an energy saving and environmentally friendly reachstacker solution," says Janey Qian, Deputy General Manager, Joint Venture Portfolio, Maersk Greater China. "Kalmar is an essential partner on our path to sustainable development."
Efficiency is the key
The first Eco Reachstacker ordered by Ningbo Blue Dragon Logistics was supplied with a fuel saving guarantee that sets a fixed level of consumption based on a set of agreed metrics on the cargo handling drive cycle.
"The Eco Reachstacker has not only achieved the promised fuel target. It has also brought us other benefits such as noise reduction, intelligent operation, and higher safety," adds Qian. "This has prompted us to purchase a further four machines over the next four years."
"The fuel savings rate is around 20%, which means each machine can save more than CNY 100,000 per year."
Efficiency is crucial to the company and the selection of such large scale machines is particularly critical observes Wang.
"Reliable equipment and a comprehensive and professional service guarantee enable us to operate safely," she says. "We have purchased eight Kalmar machines and the professional support and quick response received has helped us realise our vision to become an intelligent, modern and international logistics service provider."
The Eco Reachstacker's enhanced driving experience enables operators to feel more in control. In terms of specific features. Ningbo Blue Dragon Logistics driver Luo Renmin describes the improved operator visibility enabled by the ergonomic design of the cab.
"The lighting also provides good vision when working at night," he says. "The quality of the view from the cab is the same as in daytime and has greatly improved the safety of our operations. I would also refer to the hydraulic system - the steering wheel is lighter and more flexible so we don't feel tired even after a full day of driving."