29 abril 2022
Reading time 3 minutes
Kalmar Gloria upgrades barge handling in a Vietnamese port
Kalmar is making its first-ever delivery of a Kalmar Gloria reachstacker for barge handling operations in Vietnam. Kalmar's Vietnam dealer, Unico, has sold a Kalmar Barge Handling Reachstacker to SSIT Terminals. The Reachstacker is expected to arrive at the port this year.
SSIT terminal is a deep water container terminal strategically located on the Thi Vai River in Ba Ria-Vung Tau province. SSIT is a joint venture established by Vietnam's two main port terminals operators, Saigon Port and Vinalines, as well as SSA Marine Seattle USA. In 2021, the port handled a total container throughput of over 600,000 TEUs.
SSIT's new workhorse Kalmar Gloria reachstacker DGR450-75S6HXS will improve the efficiency and safety of lifting operations. It features an innovative boom design with excellent rotation and a wide range of attachment options.
To facilitate reaching containers at the bottom of the barge, the Kalmar Gloria has extended legs in its spread so it's able to handle containers in negative lift (under sea level). The Kalmar Gloria also features an elevated cabin that guarantees better visibility for safer operations.
Mobility and flexibility are key factors
Bang Bui, Deputy Manager of Sales and Marketing at UNICO VINA JSC, explains that SSIT needed flexible and mobile equipment to handle container on/off barge operations.
"It took us quite a long time – over half a year – to discuss and advise SSIT regarding our specialised Barge Handling Reachstacker in comparison to a fixed pedestal rotating crane," Bui says.
Finally, it was a 'win' in favor of the Kalmar reachstacker due to its mobility, flexibility and SSIT's faith in Unico Vina's capabilities and professional after-sales services.
"Unico Vina has been working with SSIT since the opening of the port with various Kalmar mobile equipment such as a Reachstacker, Empty Container Handler and Terminal Tractor and after-sales services," Bui says, adding that Unico's strong customer relationship with the port was clearly a key factor in sealing the new deal.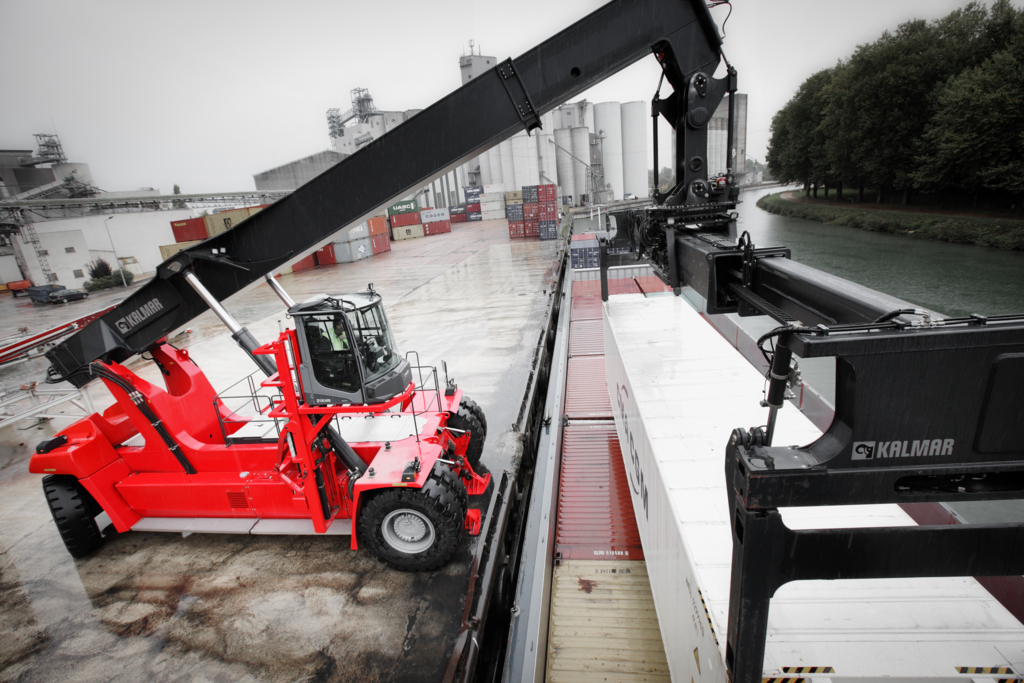 Diligent work pays off
According to Bui, securing the contract took perseverance and dedication from Unico Vina every step of the way.
"We advised SSIT with every single question and concern raised during the whole period. Also, the full support and coordination from the Kalmar team in Singapore, HQ and Factory are greatly appreciated as it gave us all this great result," Bui says.
Gavin Woo at Kalmar Sales in Singapore was involved in handling the SSIT deal together with Unico. He agrees that Unico's long business relationship with SSIT was crucial in putting the deal together.
"Furthermore, the barge connection is an important part of SSIT's business and the Kalmar Barge Handling Reachstacker DGR450-75S6HXS is the equipment specifically designed for such operations," Woo says.
Customising wins the day
Kalmar understood the customer's requirements and designed the reachstacker to address the customer's needs to maximise production and efficiency while reducing downtime. Woo admits that the entire six-month sales process was "definitely challenging" as there were other players also putting in strong bids.
"A great effort was made in technical clearance and negotiations, but winning the contract made it all worthwhile," Woo says. He credits Unico for managing the progress and gaining the full support of SSIT.