28 enero 2020
Reading time 3 minutes
Future-proof terminals: Picking the right RTG setup
Electrification and automation offer significant financial advantages for terminals operating Rubber-Tyred Gantry (RTG) cranes. Hybrid, cable reel and busbar-based systems each have their own unique strengths. The choice of the crane electrification solution needs to be considered carefully while taking into account the automation level and development roadmap of the entire terminal.
Rubber-Tyred Gantry cranes (RTGs) are the most popular crane type at container terminals, accounting for approximately two thirds of all yard cranes. Automation of existing RTG fleets offers numerous compelling benefits for terminals. Automation means less operational time lost from operators shifting to and from the cranes, and a single operator can control multiple RTGs remotely, which significantly improves the productivity of crane operators. Moving operators from the crane cabin to a remote control centre also improves occupational safety and workplace ergonomics.
Automation can be retrofitted to existing RTG cranes and container blocks can be automated incrementally without disrupting ongoing operations. A fully automated RTG setup also opens up the possibility of future automation of horizontal container transport which has been quite complex to do in an RTG terminal due to the mix of internal and external traffic.
"As defined by Kalmar, a future-proof terminal encompasses four areas of development," says Jarno Kuipers, Senior Manager, Terminal Design Services, Kalmar. "First, terminals need to be efficient and productive while minimising the handling cost per unit. Secondly, operations need to be flexible and scalable to adapt to any changes in the business environment. Terminals also face constant pressure to be more eco-efficient. And last but not least, the terminal needs to be a safe place to work."
Kuipers points out that these questions are particularly acute for existing terminals seeking to develop their operations and increase their automation level. "There are not that many greenfield terminal projects, so most of the time the challenge is combining these requirements into a specific solution at an already operational facility to really match the business needs of the terminal."
Read more about Kalmar's terminal design services.
Planning for success
In planning an RTG automation project, designers need to take into account the choice of electrification concept, the desired automation level, as well as the existing infrastructure and deployment roadmap of the terminal. Choices made in each area will influence each other and impact the total solution.
RTG electrification is an investment with a relatively high return and short payback time, offering both economical and environmental advantages. Electrification cuts maintenance and operating costs while bringing significant savings from reduced use of diesel fuel. Refuelling stops for cranes are also eliminated.
Electric-powered RTGs also enable a zero-CO2 footprint on site, while also eliminating other exhaust emissions and reducing noise from yard operations.
Electrification choices
RTG electrification can be based on three different design approaches. As an intermediate and easy step towards electrification and improving the eco-efficiency, a hybrid diesel/electric solution enables easy block changes, requires minimal infrastructure investments and does not limit the number of RTGs on the same container block. Technical challenges include the need for high-bandwidth, low-latency wireless connectivity that is still a developing technology for container automation, as well as higher maintenance costs. Furthermore, hybrid solutions still consume diesel fuel and will involve some level of exhaust emissions.
The alternatives for a fully electric RTG concept are cable reel and busbar systems. Both are proven technologies that enable zero emissions on-site and require less maintenance than diesel-powered or hybrid alternatives. Constraints for both systems include a predefined number of RTGs on a single block. The cable reel and busbar infrastructure might also require some extra space between the blocks, or having the cranes placed in a back-to-back configuration in which the power systems of two cranes face each other, and trucks are consolidated on one side, usually sharing the passing lane. Therefore, some layout changes may be necessary.
Cranes powered by a cable reel can only be switched to another block starting at the connection point of the cabling. Conversely, busbar systems enable easy block changes for the RTGs, but require expensive busbar structures that also require additional space alongside all container blocks.
Seeing the big picture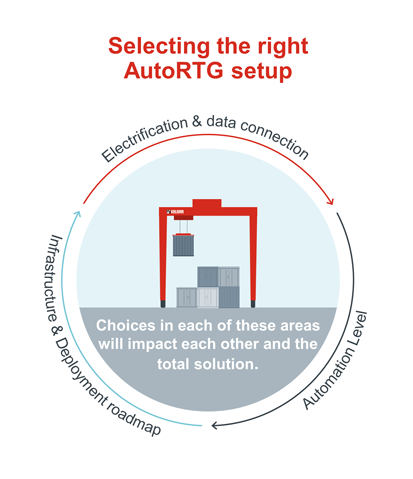 RTGs can be automated incrementally at multiple levels, from remote control to supervised moves and all the way to a fully automated operation. Electrification and automation will affect the terminal layout, first with the need to install the electrification and data connection infrastructure. Further automation levels will require slightly larger container gaps, fences between the truck lane and yard, and sometimes wider truck lanes.
The new requirements from the automated cranes have a potential impact on the different infrastructure elements of an operational terminal, ranging from RTG drive paths, container plinth foundations and reefer racks to cable reel connection points and electrical substations in the terminal.
"It's not always simple to implement the level of automation and electrification that the customer wants," says Jarno Kuipers. "It's a complicated puzzle, but with a proper study and some creativity, we can bring together automation and electrification solutions as well as an implementation roadmap that will deliver real benefits to our customers."