18 mayo 2020
Reading time 3 minutes
Forging an open, integrated path towards terminal automation with Kalmar One
Kalmar One, the container handling industry's first truly open automation system, is posed to make the adoption of automation easier for terminals of all kinds by bringing down the barriers and mitigating the risks that have limited its takeup to date.
Terminals today are facing multiple challenges including high OPEX costs, the pressure to increase operational safety and the need to improve their environmental performance, primarily driven by increasingly strict local regulations. Automation tackles all these challenges, but its adoption is being held back due to factors such as high CAPEX and deployment risks.
"A standardised and harmonised approach to automation provides a way to mitigate these challenges and pave the path to wider adoption" says Tomi Tuulkari, Director, Product Management at Kalmar.
This is where Kalmar One comes in. It is the container handling industry's first truly open automation system – a standardised and modular solution that can be adapted according to the customer's operational model and built on the rock-solid foundations of Kalmar's automation expertise and the Kalmar Terminal Logistics System (TLS).
"With Kalmar One we've extended the pure equipment control functions of the Kalmar TLS to create a complete automation system portfolio with solutions for fleet management, equipment control, yard automation, information management, emulation capabilities and more," Tomi explains. "Existing TLS customers can think of Kalmar One as the standardised version of the Kalmar TLS. Kalmar One is based on a new philosophy – Instead of developing the technical foundation based on various customer project needs, our focus is on developing a productised automation system that can be customised by customers themselves, by third party players or by Kalmar Services," he continues.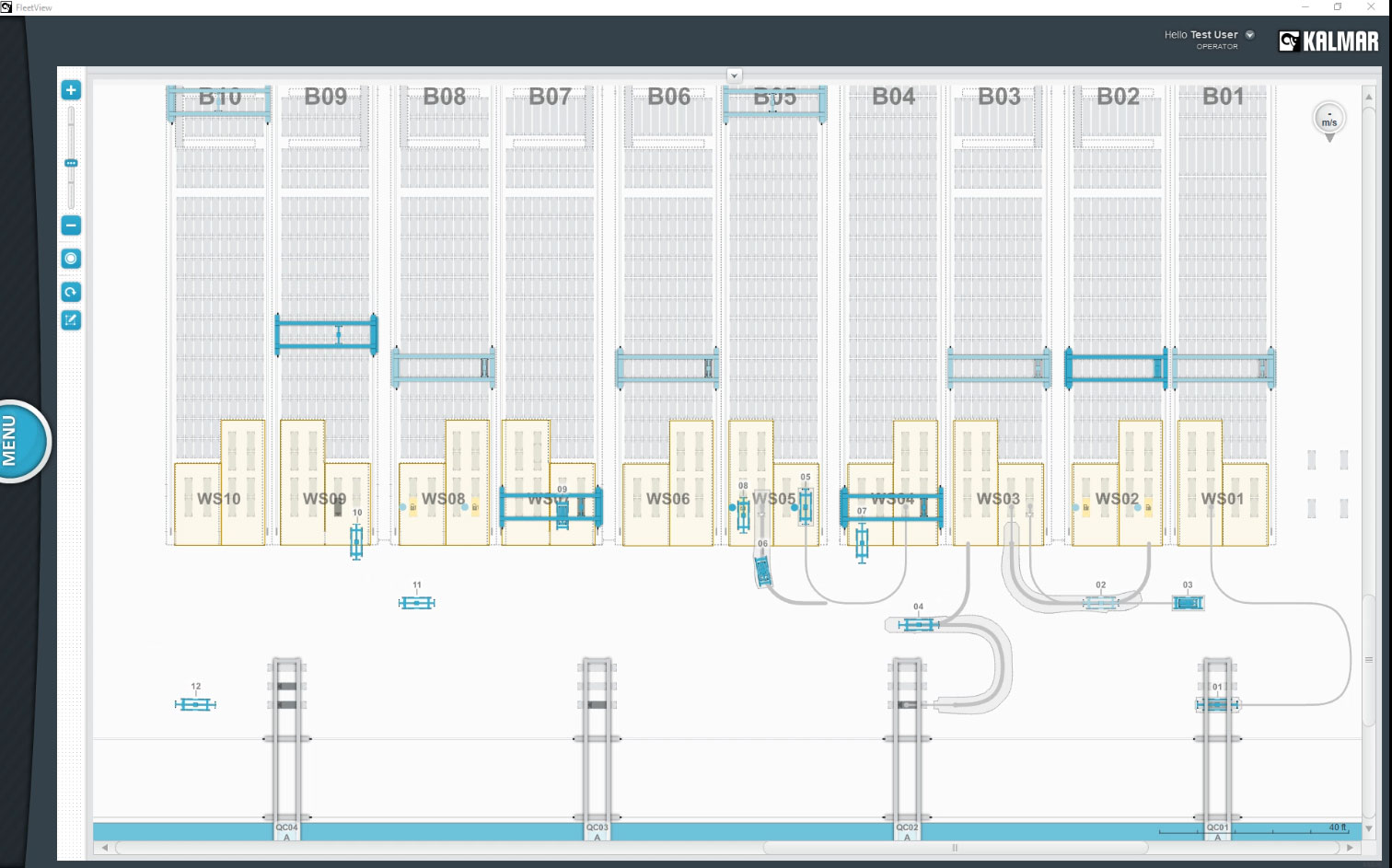 Step-by-step at a comfortable pace
Kalmar One brings together the best of equipment control, automation technologies and necessary tools to help customers make smarter decisions in terms of how they implement automation.
"So far, terminal automation has struggled to deliver on its original promises," says Tomi. "With Kalmar One we want to change all that by providing a modular-based system that is easy to adapt in terms of the terminal operating model and machine type, for both brownfield and greenfield deployments, as well as being easy to scale up," he highlights. "It's also important to remember that terminals need to be able to adopt automation at a pace that's comfortable for them and scale for all sizes and types of deployment. This is where our step-wise approach pays off, a good example of which is our AutoRTG application, which provides a clear path for customers to move from manual to semi-automated and, should they wish, on to fully automated operations."
Terminal automation demystified
One of the biggest benefits of Kalmar One is that it makes automation easier to understand, especially for customers who are just starting out on their automation journey, with products divided into a clear set of families, each focused on dealing with a different aspect of terminal automation.
"By offering solutions that are based on clearly defined automation system products, we can make it more explicit what we are delivering to the customer, which in turn makes it easier for them to see the value of their investment," says Marko Hopeaharju, Sales Director, Automation Technical Sales.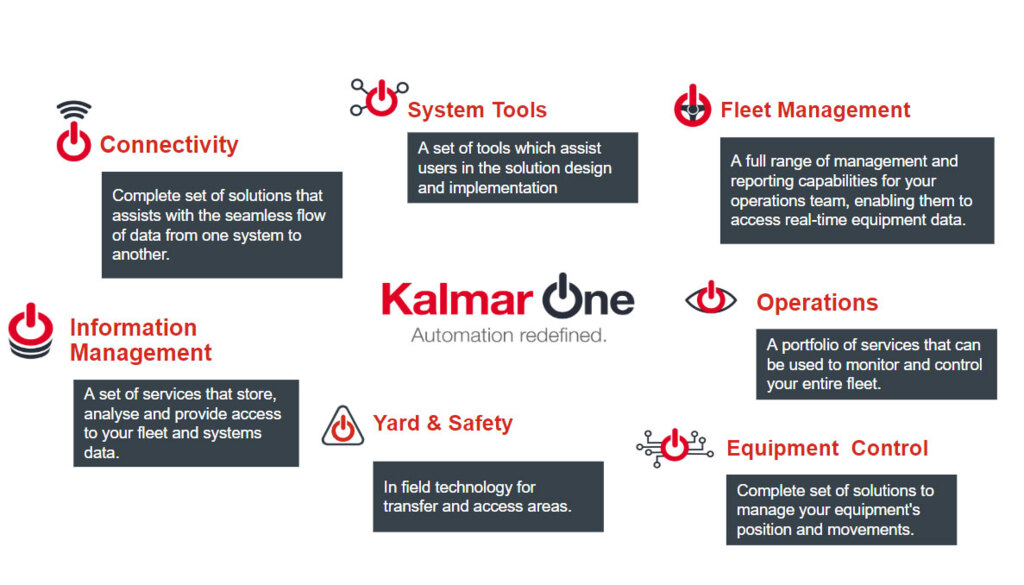 Kalmar One products from the seven product families can be used for automating container handling operations regardless of the vendor, equipment type, operation mode and automation level.
Concrete steps towards easier implementation
Beyond the product families, one of the goals with Kalmar One is to make the internal 'nuts and bolts' more transparent for customer IT teams. "We're working all the time to streamline the system architecture so that all the technical components start talking via the same communication bus," says Olli Mylläri, Director, Software Architecture, Kalmar. "The more streamlined the systems is, the easier it is to troubleshoot and also to monitor from a cyber security perspective, which is obviously an increasing concern as terminals adopt digitally connected technologies," Olli explains.
"Furthermore, instead of releasing technical components one by one and testing them within the framework of different customer sites, we'll be making complete automation system releases together based on a continuous integration pipeline," Olli points out. "This will help guaranteeing the system-level integration, functionality and compatibility for the whole automation system, which makes upgrades smoother and less time consuming for the customer and Kalmar automation support personnel."
Accelerating automation adoption
With Kalmar One the goal is to bring down the barriers and mitigate the risks that are currently limiting the adoption of automation in the container-handling industry.
"Standardisation has been proven to reduce both risk and cost in many other industries, so we want to develop an automation offering that is based on the principles of standardisation and openness while at the same time offering the flexibility to adapt to a variety of operating models," explains Tomi.
"One of the biggest advantages of this standardised and modular approach is that new enhancements and features will work out of the box and be supported during the whole lifetime of the application. This will make adopting automation easier and more economical for all kinds of cargo-handling applications," Tomi concludes.
Kalmar organised a webinar on 14 May 2020 to explain how the Kalmar One automation system can accelerate your success with a standardised approach towards terminal automation. Listen to the webinar recording >>

Sign up for the Kalmar Key Partner Forum to get access to more detailed product descriptions and online technical support for the Kalmar One automation system.