24 febrero 2022
Reading time 4 minutes
Allan Baker – Making waves in port automation across Oceania
Oceania, and Australia in particular, has been a leading light in port and terminal automation for several years. Our man in the field, Sales Director Allan Baker, is a seasoned logistics industry professional responsible for translating customer requirements into successful solution deliveries across this diverse and highly developed market.
When we think of Australia most of us immediately think of sun, sea and surf, and it's the latter of these that Allan Baker really likes to get his teeth into – preferably without something else getting its teeth into him.
"I enjoy surfing and it's something I like to do whenever I can. Because it's Australia, this means I've had close encounters with sharks in my time, one of which the locals at one surf spot in Byron Bay had named 'Keith' because he was such a familiar sight; thankfully I've never been bitten though!"
Experience is everything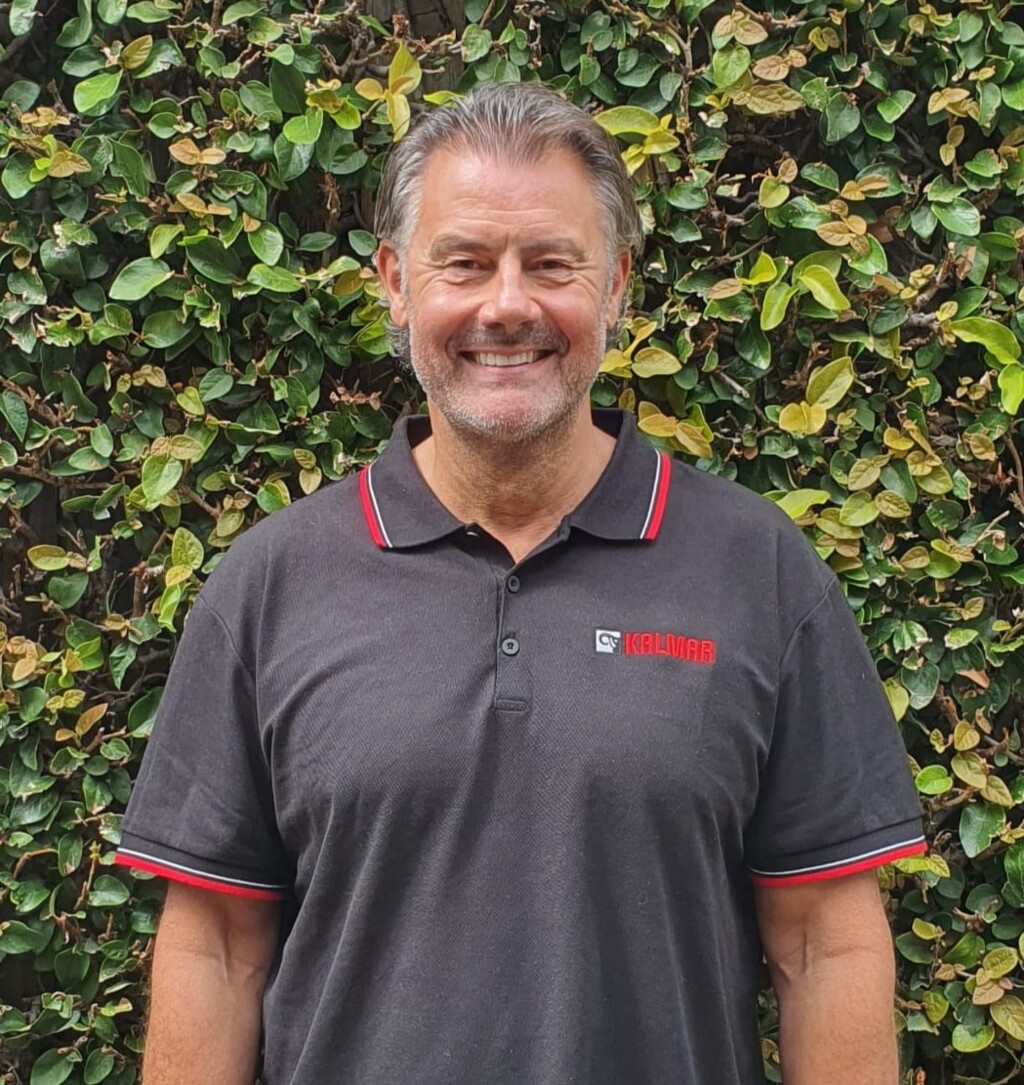 As well as being an active adventure seeker who also enjoys open-water swimming, road & mountain biking and travel, Allan is a veteran of the logistics industry with decades of experience under his belt serving customers in a variety of capacities. He joined Kalmar in 2021 from a Dutch-based global leader in engineered heavy lifting and transportation.
Having worked in the logistics industry since 1981, it should be no surprise that Allan's experience covers everything from freight forwarding to customs clearance and professional services. His first forays into the business of physically lifting and moving things came a little later. "While working in project logistics I was exposed to projects that involved engineered heavy lifting, mainly for customers in the mining & gas industries, and that's how I ended up in engineered heavy lift as regional sales director, which in turn laid the perfect foundations for my current role at Kalmar;" he says.
As Regional Sales Director for Oceania for Kalmar Automation Solutions, Allan puts his years of experience into practice liaising with senior figures at the major container port operators across Australia, New Zealand and Pacific Islands to understand their automation requirements. This gives him a broad overview of the trends driving this diverse market.
"At the moment we're seeing a strong push towards hybrid technologies, particularly in New Zealand, which has been a real trailblazer in this regard, and of course Kalmar has been at the forefront of hybrid equipment development for many years, so our reputation precedes us. Representing Kalmar certainly opens a lot of doors for me in this regard," Allan points out.
A big market with some very big players
Kalmar has worked with virtually every big global player present in the region – including Patrick Terminals, DP World and International Container Terminal Services, Inc (ICTSI) – on a wide variety of automation projects. Patrick Terminals employs Kalmar automated equipment and systems at its Brisbane, Sydney and Port Botany terminals, and the cooperation with Patrick & VICT has helped to make the Port Botany & Port of Melbourne some of the most highly automated facilities in the world.
Victoria International Container Terminal, (VICT) owned by ICTSI, operates a large fleet of Kalmar Automatic Stacking Cranes and Kalmar AutoShuttles alongside the Kalmar Automated Truck Handling system, with the terminal's automated operations powered by the Kalmar One Automation System. In Sydney, Kalmar is currently helping logistics services provider Qube build a fully automated intermodal terminal that will dramatically boost logistics efficiency for major retailers and improve the eco-efficiency of cargo transport for the State of New South Wales. The innovative terminal concept makes extensive use of Kalmar hybrid FastCharge™ Automated Straddle Carriers for the horizontal transportation of containers.
The point of no return on the path to automation
"Kalmar has been working on automation projects across Oceania since the 90s, and now the industry is reaching the point of no return," Allan says. "There's no doubt that the level and scale of automation is only going one way, and that's up. We're seeing all of the major players accelerating their investments in automated technologies, which is what makes this such an exciting time to be working in the industry for a leading global player."
Commenting on the drivers behind this trend, Allan mentions the high cost of labour and, of course, the regulatory and consumer pressures to act responsibly and reduce the carbon footprint of port and terminal operations.
"In both Australia and New Zealand, you could say we are on the brink of the next industrial revolution, with the massive investment into developing inland rail and new intermodal terminals to provide more options for distributed freight transport and take pressure off the road network," Allan explains. "Having been seen as something of a second-class citizen compared to road transportation in the past, rail is most definitely on the rise, and with our mature equipment and service offering for intermodal terminals, we are ready and waiting to support customers in realising their vision and there are plenty of them in AU & NZ being contemplated at present"
A 20-minute video call is the new handshake
With much of the world still in the grip of the COVID-19 pandemic, working remotely has become the norm for many of us. And that means a lot of video meetings. For a salesperson, taking away the ability to sit down face to face with a customer is akin to taking away a Formula One driver's car or a baseball player's bat or glove.
Allan says that a 'keep calm and carry on' approach has served him well in these tumultuous times, and given him the opportunity to build rapport with prospects in a whole new way. "A short 15 or 20-minute sit-down over video is the new handshake. I'm in the same boat as my customers, so we're just learning to adapt and deal with it. Working in this way means as a salesperson you have to be even more perceptive, even more highly attuned to what the other party is saying and feeling, because you're not physically in the same room. It's a challenge, but not one that phases me," Allan concludes.