1 julio 2021
Reading time 5 minutes
Power up your stacking operations with Kalmar One
Kalmar's pioneering Automatic Stacking Crane (ASC) application, powered by the Kalmar One automation system, already has a number of impressive references at marine terminals around the world. In this article we take a closer look at the nuts and bolts of this proven, scalable solution and how it can improve safety, cost-competitiveness and operational flexibility at both greenfield and brownfield sites.
Kalmar One is a flexible and scalable open automation system that enables terminals to streamline and automate their operations with proven functionalities and well-established processes. With its standardised offering, Kalmar One is quicker, easier and more cost effective to deploy, helping terminals to be more efficient, maintain the highest levels of safety and reduce carbon emissions. The system powers all Kalmar automated equipment applications, one of which is the Kalmar Automatic Stacking Crane (ASC) application.
A highly scalable solution for greenfield and brownfield sites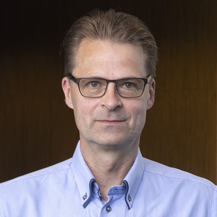 ASCs are the most typical automated yard crane solution at marine terminals as they can enable high vessel-side productivity alongside excellent landside service. Their excellent scalability makes them ideal for both brownfield and greenfield terminals ranging from medium sized up to the largest mega-terminals.
Marko Hopeaharju, Director, Sales Engineering, Kalmar Automation Solutions: "For brownfield operations you can use the ASC application to increase stacking density with fewer blocks in your existing straddle operations. For greenfield sites you can start right away with a 'big bang', with multiple modules and ASCs."
ASC modules support both fully and semi-automated operations. In a fully automated setup the ASCs are supported by Automated Straddle Carriers or Automated Guided Vehicles (AGVs), while in a semi-automated setup they are typically supported by manually operated shuttle or straddle carriers.
Why opt for automated stacking?
With the growth of international seaborne trade and the ever increasing size of cargo-carrying vessels, ports and container terminals around the world are increasingly looking to automation technologies to help them improve their productivity, efficiency, competitiveness and, most importantly, safety.
"First of all, obviously there are no operators on board the cranes, so that immediately increases the safety of operations," Marko explains. "ASCs also make it easy to segregate truck lanes on the landside and horizontal transportation lanes on the waterside, and reefer access control and dedicated maintenance areas help keep people apart from containers and machines, vastly reducing the risk of incidents or accidents," he continues.
The ASC application brings vastly improved operational flexibility too, with an excellent service level for both vessels and trucks as well as reefers. ASCs can also be used for housekeeping operations to prepare the stack for arriving ships and trucks. "Unlike human beings the ASCs can safely work sustainably around the clock too, unrestricted by shift patterns or the time of day," Marko adds.
Last but certainly not least, from a cost-competitiveness point of view the ASC application has a great deal to bring to the table for terminals looking to streamline their operations. A handful of operators is all it takes to manage a large fleet of ASCs, with remote control available for exception handling.
"Fuel costs, a significant operational expense in any terminal, are eliminated since the cranes are fully electric, which also makes them easier and therefore cheaper to maintain," Marko says. "Yard densification is another key advantage because many terminals simply don't have any more space to expand into, so the ASC setup helps them get even more from their existing footprint. What's more, these cranes can operate in pretty much any conditions, so there's the opportunity to decrease the impact of adverse weather on productivity too," he continues.
Two operational concepts
There are two potential operational concepts in the Kalmar ASC application: perpendicular stack and parallel stack. The perpendicular concept, ideal for balanced import/export operations, typically comprises two cranes per module – one landside and one waterside – and can provide up to 1-over-6 high and 12-wide stacking. With the parallel stack concept there are also two cranes per module, but the modules are parallel to the quay and some can include a landside transfer area for trucks. This concept is well-suited to transshipment operations.
Powered by Kalmar One
The Kalmar ASC application makes fully automated operation a reality when combined with the Kalmar AutoStrad™ solution on the waterside and Kalmar automated truck handling on the landside. The Kalmar One automation system covers all three layers: the terminal layer, the yard layer and the equipment layer.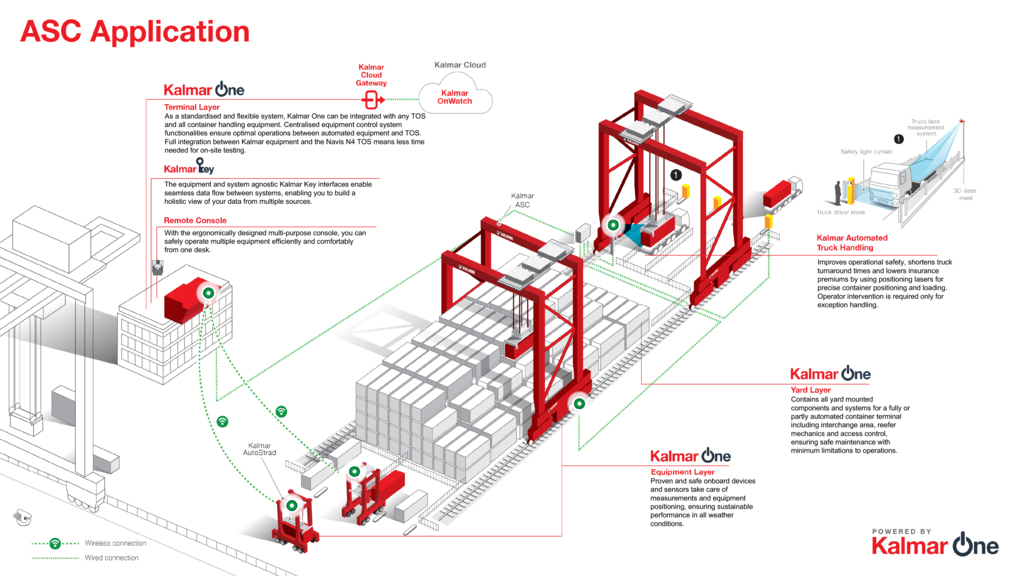 "The terminal layer covers fleet management and monitoring as well as remote consoles for controlling the cranes. It also includes our cloud gateway to connect equipment to services like Kalmar OnWatch for remote monitoring, troubleshooting and operations assistance," explains Marko. "The yard layer covers components and systems to ensure the safety of people accessing the yard, and it is also where we can integrate other applications like the Kalmar AutoStrad™. Finally, the equipment layer covers the automation devices and sensors onboard the equipment that take care of measurements and positioning."
Your foundation for the future – today
The Kalmar ASC application boasts an impressive reference list. VICT in Melbourne, Australia's first fully automated container terminal, is home to 20 Kalmar ASCs with automated truck handling plus 11 Kalmar AutoShuttles. DP World London Gateway has 60 Kalmar ASCs with automated truck handling and also operates Kalmar hybrid, diesel-electric and FastCharge™ shuttle carriers. Finally, TraPac in Los Angeles operates 29 Kalmar ASCs with automated truck handling alongside Kalmar automated diesel-electric and hybrid straddle carriers.
"Our ASC concept has proven itself over 30 years and makes things as simple as possible for customers because everything is handled by one supplier. We supply the cranes themselves and integrate all the scanners, sensors and electrical systems. And with the addition of Kalmar automated truck handling and the Kalmar AutoStrad™, customers can realise all the benefits of fully automated end-to-end operations," concludes Marko.