19 agosto 2021
Reading time 3 minutes
Secure optimal solution performance with Kalmar Remote Services.
Kalmar Remote Services put Kalmar's experience and expertise at your service wherever you are in the world. Through these services our experts can help to identify the root cause of automation system or connected equipment issues and recommend appropriate action to minimise system and equipment downtime and maximise availability and performance.
As cargo handling equipment becomes increasingly sophisticated, ensuring you get the maximum benefit from your investment often requires specialist knowledge and skills that may not be available on site.
"The goal of Kalmar Remote Services is to ensure the success of our customers by helping to optimise equipment availability, minimise disruptions, enable continuous improvement and extend the equipment lifecycle," says Hannu Karp, Director, Automation Services, Kalmar.
"With these new services we can clarify our offering for customers and the value that the various services bring, as well as better addressing the needs of equipment maintenance teams on the ground."
Kalmar Remote Services aims to help customers optimise equipment availability, minimise disruptions, enable continuous improvement and extend the equipment lifecycle.
The Kalmar Remote Services portfolio comprises four elements:
Maintenance Remote Support

, which offers three different levels of support for maintenance teams at both automated and manual terminals

Software Maintenance and Support (SW M&S)

to provide mission-critical automation system support and enable continuous improvement through new releases

Automation & Software Monitoring

, a proactive monitoring service for automated terminals

Remote Automation Engineer

, which provides customers with additional expert resources remotely to help them operate their equipment or process automation solutions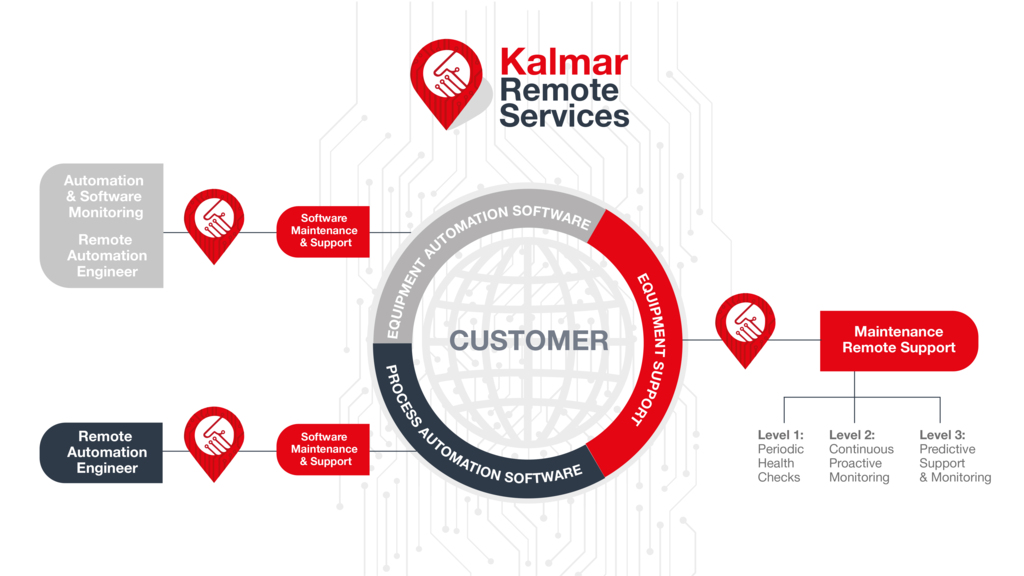 Stay one step ahead with Maintenance Remote Support
For connected equipment in both automated and manual terminals, the Kalmar Remote Services offering includes remote support for customer maintenance teams. Kalmar experts can analyse operational data from customers' equipment to help identify issues and provide potential solutions.
"Initially we are offering this service for Kalmar shuttle and straddle carriers, but we are planning to extend it to our automatic stacking cranes and rubber-tyred and rail mounted gantry cranes in the near future," says Teemu Tapio, Manager, Contract Management, Kalmar.
Currently, Maintenance Remote Support is available for Kalmar shuttle and straddle carriers and it will be expanded to ASCs, RMGs and RTGs in the near future.
There are three levels of service:
Level one

comprises periodic health checks where Kalmar experts analyse customer data using proprietary algorithms and analytics software to ensure it is running as efficiently as possible. Reports from these health checks, which include recommendations from Kalmar on maintenance actions to improve underperforming equipment, are reviewed during monthly meetings with the customer.

Level two

includes all elements from level one plus continuous proactive monitoring of predefined parameters by Kalmar experts to identify 'red-flag' issues and recommend solutions. Kalmar and the customer collaborate on a weekly basis to address these issues.

Level three,

which is currently under development, will build on level two with the addition of predictive support and monitoring to help identify and solve potential issues before they affect the customer's operations. Based on the equipment data, Kalmar experts will be able to recommend corrective actions that the customer's maintenance teams can take to prevent downtime.
Data adds value and enables saving
"With Maintenance Remote Support we can help customers reduce downtime by continuously improving the performance of their fleet based on equipment data," says Teemu. "The data gathered from their machines is stored in the Kalmar Cloud. From there, Kalmar experts analyse and enrich it in order to produce a report with clear findings and recommendations to optimise equipment maintenance and usage. As an example, for a customer with 32 machines running 80,000 container cycles, Kalmar measures over 500 different variables, collecting in the region of 94 GB of data in the process."
This data-driven approach has enabled early identification and resolution of issues such as brake dragging, which was identified through abnormalities in the brake cooling system and the overall energy consumption. Resolving this issue saved the customer in question 3,000 litres of fuel and helped to avoid related component failure that would have led to unplanned downtime.
In another example a wheel alignment issue was identified to be the cause of excessive energy consumption in a machine. Early intervention saved the customer 1,500 litres of fuel and avoided the need to replace the machine's tyres earlier than necessary due to excess wear. In a third example Kalmar resolved an issue with the hydraulic pump on a machine that was identified by analysing data on hydraulic oil temperatures and machine energy consumption. Replacing the pump reduced fuel consumption by 6% and avoided related component failures that could have taken the machine out of action unexpectedly.
"We give customers a head start by identifying the root causes of problems and helping to resolve issues as they are developing – and with predictive monitoring we can intervene at the earliest possible stage to prevent problems from occurring in the first place. Regardless of the level of service they choose, customers benefit from continuous improvement in fleet performance and reliability, and therefore often significant savings," Teemu explains.
Software Maintenance and Support for evolving, mission-critical IT systems
"Any customer operating mission-critical automation or other software needs to ensure that their systems operate reliably in the long run regardless of changes in operating systems, spare parts interfaces and so on. Our Software Maintenance and Support services provide a clearly defined service level agreement with guaranteed response and resolution times including 24/7 support for the highest priority issues," Hannu explains.
Customers also benefit from new Kalmar One automation system releases tested with their own configurations by Kalmar, so they can be deployed with confidence. Last but not least, with platform compliance support Kalmar ensures that our software supports new technologies and operating systems.
"We have now introduced two new Remote Service extensions to our standard M&S support to help customers execute their own responsibilities and enable us to be more proactive, providing faster responses and shorter workaround times when there are issues to resolve," says Hannu. "This is particularly valuable during the ramp-up phases of new automation operations when the customer's own teams are still learning how to operate and manage their new technologies and systems. We can also provide extra support with deploying and testing new Kalmar One releases."
A healthy system means a healthy terminal
Through Automation and Software Monitoring Kalmar keeps a close eye on the health of a customer's automation system by automatically monitoring the message flow between Kalmar One and other systems, monitoring message processing, checking on server and wireless network connectivity health and keeping an eye out for any abnormal system behaviour.
This continuous monitoring means Kalmar can identify issues as they happen and maximise uptime by proactively providing solutions and/or solving the issues. Kalmar also performs offline background analysis of the automation system data and provides the customer with recommendations based on the data.
"Our service centre teams will automatically receive alerts of critical items and have access to the relevant log files to help speed up issue resolution, with dashboards at the support centres making it easier for us to proactively monitor the customer's systems 24/7," Hannu expains.
Extending remote support to first-level end-user support
Customers can also extend their remote support to cover first-level end-user support with additional automation engineer resourcing from Kalmar. This is an efficient way to build and organise skilled end-user support and guidance. With the additional resourcing, Kalmar can provide even faster response and workaround times than with its standard Maintenance and Support agreements. Remote automation engineers can also support the customer with their own quality-assurance tasks and software deployments. Customers can communicate directly with Kalmar engineers via a two-way chat.
"The key to running a successful automated terminal operation is a robust approach to exception handling. Regarding control-room setup and support, there is no one-size-fits-all model. The aim is to help our customers identify and implement the optimal setup to achieve their business goals," Hannu highlights.
"Whether a customer is running automated or manual equipment, with Kalmar Remote Services we can help them to optimise equipment availability and ensure smooth operations. We do this by providing valuable insights and actionable advice, proactively identifying and addressing issues through advanced analysis of equipment data and providing customers with additional skilled resources if and when they need them," concludes Hannu.