16 enero 2020
Reading time 4 minutes
A helping hand 24/7
As complex and high-tech as today's terminal automation technology is, it would be nowhere without the skill and dedication of the engineers and support teams that take care of it. Kalmar's automation support team is available around the clock to support customers all over the world. We found out more about the team's work and got up close and personal with some of its members.
Looking at a modern container terminal with automated systems and equipment is a little like watching a hugely complex ballet, with hundreds of participants moving gracefully from mark to mark in a carefully choreographed dance. Lifting equipment like rubber-tyred gantry cranes (RTGs) and automatic stacking cranes (ASCs), horizontal transport equipment like shuttle and straddle carriers – all controlled by complex software, following a well-defined plan.
At terminals using Kalmar's automation solutions, behind the scenes there is a very human side to this world of wires, servers and lines of software code. This is the world of the Kalmar Automation Support Team. Where there is automation in some form, the team is there to help. They support fully automated terminals such as those with Kalmar ASCs and Kalmar shuttle carriers, terminals where the RTGs are controlled remotely from an RC desk, and terminals that employ Kalmar SmartPort process automation solutions.
Chasing the sun
During office hours the global team spread across four locations literally "follows the sun" in shifts to provide automation customers with support during office hours, wherever they are in the world. Teams are located in Tampere in Finland, Los Angeles in California, Sydney in Australia and Chennai in India. They support any terminal where a Kalmar automation solution is deployed, providing a wide range of services to customers, from dealing with daily maintenance and support issues to suggesting innovative new improvements to help customers boost the productivity of their operations.
Should problems arise, it's all about digging deep to find the root of the issue – is it hardware or software related for example – and then working to find a solution as quickly as possible to keep things running smoothly.
Working hand-in-hand with customers
The challenges faced by the team are many and varied – perhaps a container block is suffering because the RTG or ASC is unable to pick or ground containers, or a piece of equipment is not communicating properly either with the terminal operating system or another piece of equipment.
The team uses a variety of different channels including instant messaging services like Slack and WhatsApp to stay in constant touch with customer contacts on the ground. For less critical issues Kalmar customers can also report problems via the MyKalmar automation support portal.
Always on duty
The team is also responsible for supporting Kalmar Remote Services customers. With Kalmar Remote Services, customers can take advantage of the knowledge and skills of Kalmar experts through modern remote support channels. Kalmar experts proactively monitor customers' terminals and work hand in hand with the operations team on the ground to address any potential issues before they can cause downtime or disruption to processes.
To ensure seamless handover at the end of a shift, the on-duty team meets with the next shift to review major and ongoing issues, including reviewing conversations in the instant messaging groups to get up to speed ready for the new day to begin.
Let's get to know some of the people behind the machines:
Raine Koponen, Team Leader, Automation Services
Technology has fascinated me from an early age. In my first job after university I was a test engineer for mobile phones. I joined Kalmar in 2016 in a Quality Assurance role in software development. No two days are the same in my job, but one common element is teamwork – we're constantly communicating and working together to solve customer challenges, and that takes up most of my time. Because our customers are located all around the world, I'm mostly helping them via email and messaging tools.
Though it can be tough to stick to what you promise with so much going on at the same time, that's what we always try to do. It takes good discipline, focus and great time-management and prioritisation skills, but the reward is seeing the result of my work in the form of a happy customer with an operation that's running smoothly.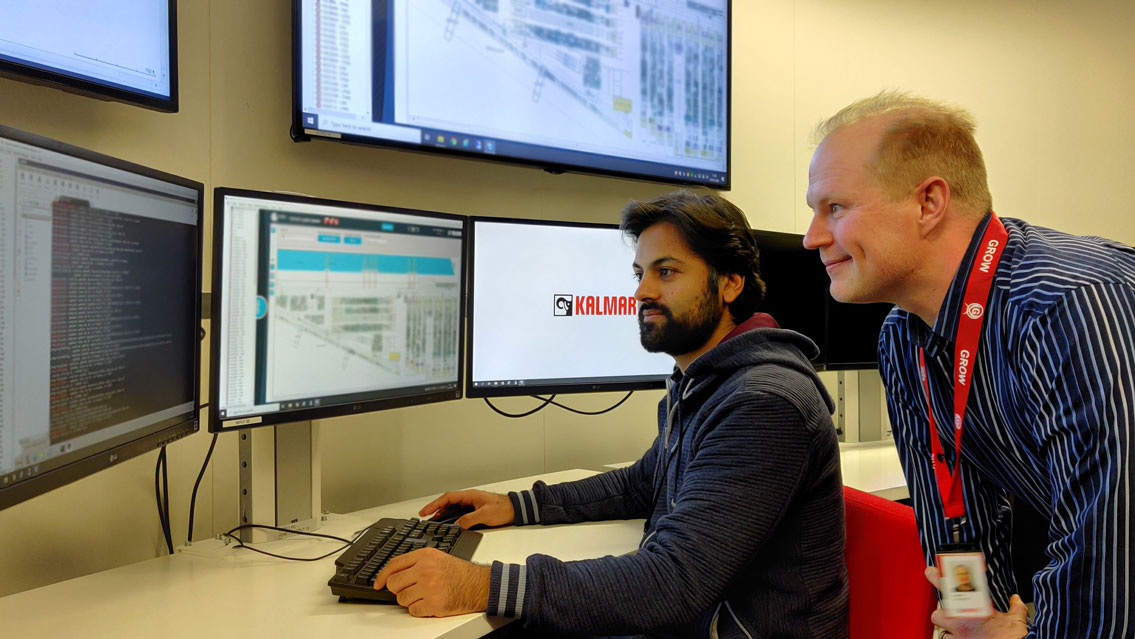 Peer Rahman, Automation and Maintenance Support Specialist
After graduating as an electrical engineer, my first job was as a control and maintenance engineer at an automated cargo terminal. I joined Kalmar in 2018. Along with the rest of the team, I'm supporting our customers around the world not only by providing solutions to problems but also by helping them to implement new technology and innovations. By working and growing together as a team, we help our customers to succeed and help Kalmar to flourish as a business.
The most challenging part of my job is when I have to figure out what's going on with very little information to work with. At the same time, it's also the most rewarding part because I get to use my skills and experience to join the dots and find a solution as quickly as possible. There are always fresh challenges and something new to learn every day. I like to think of my work as a game where I'm working around obstacles and levelling up with each new piece of knowledge!
Dhanasekar Srinivasan, Automation Test Engineer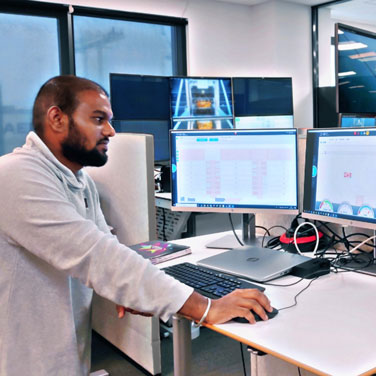 I'm originally from Chennai in India and graduated as a mechanical engineer. I ended up at Navis after working in the tech and banking industries for some years. Currently, I am part of the (QA) team representing the Kalmar One automation system and performing system testing and system integration testing for automation system releases. My team tests new software releases from various suppliers ready for integration with real equipment.
It's challenging because even the smallest defect in our process could potentially result in operational problems and therefore financial implications for our customers. We take on the responsibility as a team and need to stay focused all the time. We do this through clear communication, open and honest discussions so we can set realistic schedules and expectations and reaching out when we need help.
I really like my work because I get to interact with all kinds of people from different cultures and work closely with the people who use our products every day. This helps me to grow professionally and as a person.