25 junio 2019
Reading time 4 minutes
Kalmar: Together for an eco-efficient future
Kalmar challenges stakeholders to create a better future for everyone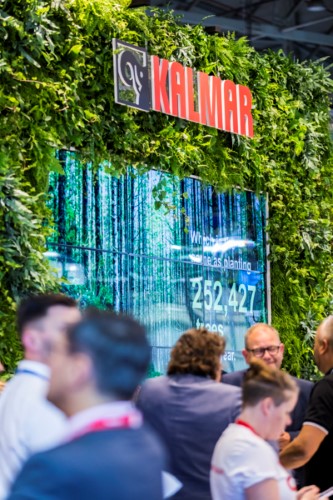 Amongst the video displays and eye-catching signs, the large wall of climbing green plants said it all. Driving eco-efficiency in terminal operations was Kalmar's focus at TOC Europe 2019, held from 18-20 June in Rotterdam, The Netherlands. At the same time, the company called on its customers, partners and employees to contribute to the same goal: a better future for ourselves and coming generations.
"I think about my grandchildren and what kind of world we are leaving them," says Antti Kaunonen, President Kalmar Automation Solutions. "So I challenge myself and my colleagues to improve ourselves. Eco-efficiency is everything." Stefan Lampa, President Kalmar Mobile Solutions agrees: "I'm happy we're helping customers in their journey to a better CO2 footprint."
Customers are equally committed to eco-efficiency. "It's about low energy consumption, reducing CO2 and smart systems," says Cees van Pelt, Manager Technical Department and Projects, Rotterdam Short Sea Terminals. Kalmar is playing a major role in this.
"Kalmar has a very strong focus on eco-efficiency and makes big investments in R&D," says Marc Desmons, Director Equipment Engineering, Terminal Investment Limited (TIL). "They test and compare lots of technologies to find the best option and then offer new solutions to customers at favourable terms to lower our risk."
Powering the port of the future
Kalmar demonstrated this pioneering approach at TOC Europe with a series of demos and conference sessions featuring a range of eco-efficient solutions for vehicles, systems and entire container terminals. A major highlight was a striking holographic presentation of the Kalmar T2E Electric Terminal Tractor, which will be launched in Q1 2020. Powered by four emission-free lithium-ion batteries, it delivers fast plug-in charging and 107 kWh of continuous power. Offering a choice of electric traction motors, reduced noise and lower maintenance, the new electric terminal tractor is a major step forward in Kalmar's goal to have its entire portfolio available as electrically powered versions by 2021.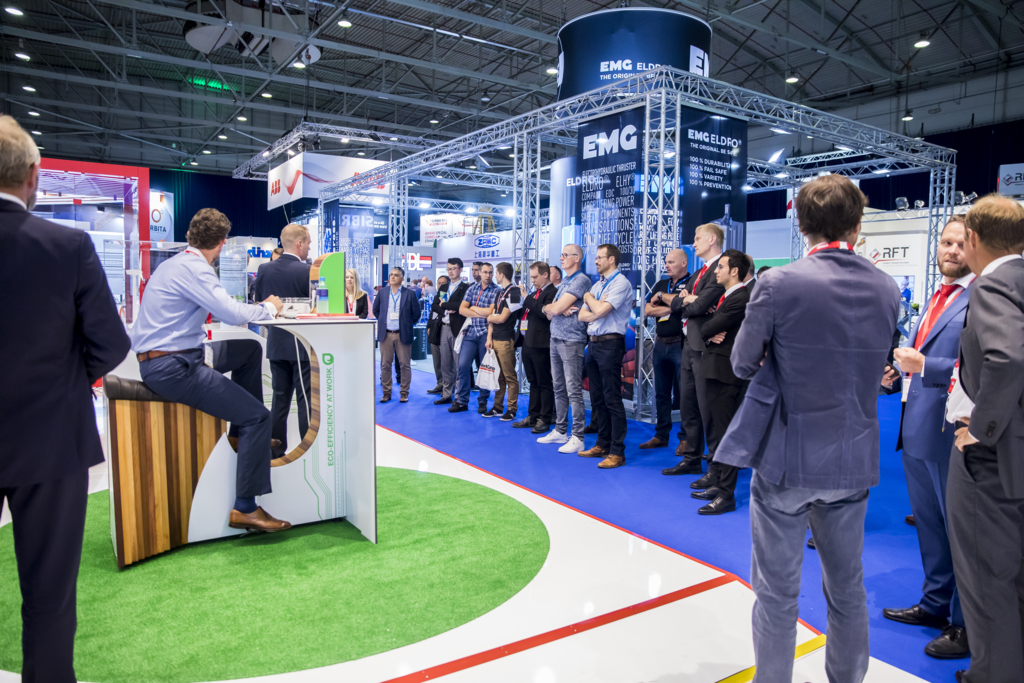 With an all-electric future in sight, efficient energy management is an issue for terminal operators. The demo "Powering the port of the future" used a scale model to present a potential scenario for a container terminal where energy is also generated from a renewable source like wind turbines, solar panels or tidal power. The resulting energy is stored in a Kalmar power pack connected to a Kalmar FastCharge AutoStrad™. "This solution gives terminal operators a realistic way of electrifying their operation while maintaining optimum performance," says Henrik Häggblom, Vice President, Kalmar Intelligent Horizontal Solutions. "The combination of stationary power storage and high-powered fast charging offers a buffer for more flexible energy management. In addition, it enables a simple electrical infrastructure to handle peak loads of container handling equipment."
Kalmar's eco-efficient RTG terminal solutions can save 5.49 million kilogrammes of CO2 per year, which is the equivalent of planting 252,427 trees.
Achieving a fully-electric terminal is a gradual process. The demo "Going electric step by step" showcased different options for reducing emissions in terminal operations by using eco-efficient technologies. "Kalmar's approach to this involves using technology and data to optimise systems efficiency, developing solutions that minimise the environmental impact of terminal operations, and upgrading and refurbishing equipment so that resources last longer," says Mette Kjems Bærentzen, Kalmar Product Portfolio Manager. These three strategies can achieve significant results. Kalmar's eco-efficient Rubber Tyred Gantry (RTG) terminal solutions can save 5.49 million kilogrammes of CO2 per year, which is the equivalent of planting 252,427 trees. For Automatic Stacking Crane (ASC) terminals, a combination of Kalmar solutions can cut emissions by 5.4 million kilogrammes of CO2 per year, enough to power an average home for 416 years.
Kalmar expanded on these strategies in two of the conference sessions. "A holistic approach to container terminal productivity with the help of decoupled horizontal transportation" demonstrated Kalmar's expertise in system efficiency. "In combination with parallel C-RMG stacks, a decoupled horizontal transportation delivers significant advantages compared to a coupled system," says Timo Alho, Vice President, KalmarTerminal Development. "Benefits include 20% higher yard crane productivity, 7% higher quay crane productivity and 50% higher HT equipment utilisation."
"We are using the Kalmar Eco Reachstacker to become climate-neutral." - Patrick Dammers, Operations Manager, Van Berkel Logistics
In "Clean technologies: Moving Towards a Zero-Emission Terminal," Kalmar's Mette Kjems Bærentzen highlighted the emissions efficiency of the Kalmar Eco Reachstacker. With its optimised diesel driveline, customers are benefitting from significant reductions in both fuel costs and emissions. "Some 200 Kalmar Eco Reachstacker's are in operation throughout the world and all together they have reduced global emissions by 5,909,397 kilogrammes of CO, she says
"We are using the Kalmar Eco Reachstacker to become climate-neutral," says Patrick Dammers, Operations Manager, Van Berkel Logistics.s a next step in Kalmar's quest for complete electrification,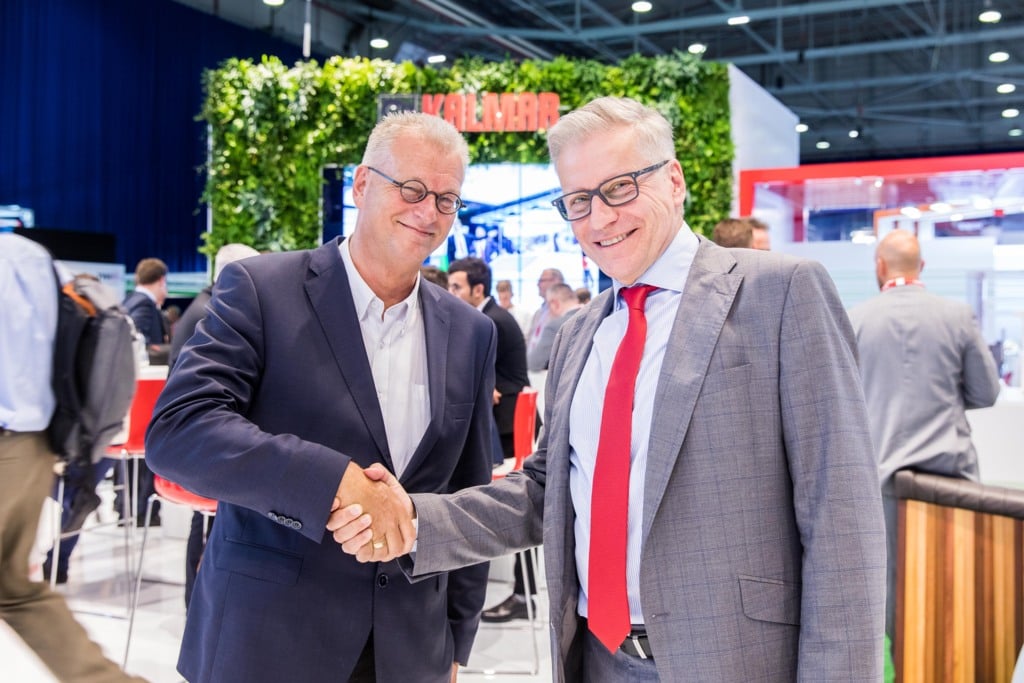 In the same session, Kalmar and Yara presented their plans to develop a zero-emission cargo terminal at Yara's Porsgrunn facility in Norway. Having started with the world's first autonomous and zero-emission container vessel, the Yara Birkeland, the project will now expand to create the world's first fully digitalised and electric supply chain.
Collaboration is key to the success of this project. "Yara is working with several technology partners," says Peter Due, Executive Vice President, Yara Birkeland. "This solution will be implemented in phases, starting with a manned phase and moving to fully autonomous operation in 2022". Kalmar will contribute a Kalmar Automated Rail Mounted Gantry Crane (AutoRMG), three Kalmar FastCharge™ Automated Straddle Carriers a FastCharge charging station and related automation and safety systems.. "System integration is key," says Mika Seppä, Senior Director, Kalmar Customer Services. "Kalmar's open interfaces will help to optimise container flows for the lowest possible footprint. With this groundbreaking project, the future of container handling is all-electric and automated."