4 abril 2019
Reading time 3 minutes
Cabooter Group on track for further growth
Logistics provider Cabooter Group plans to double the number of trains it handles over the next 12 months due to a boost in productivity and efficiency resulting from its partnership with Kalmar.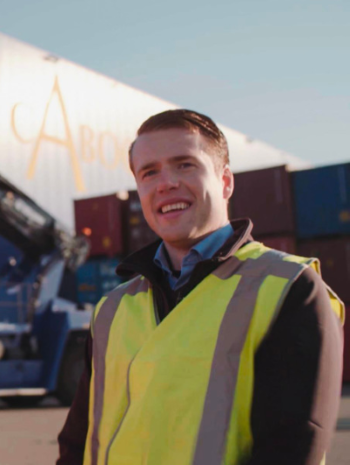 Since its founding in 1995, the Cabooter Group has grown to become a global logistics provider. As one of the leading logistics hubs facility operators in Europe, it has an extensive portfolio of transport and logistics solutions spanning multiple industries.
The Cabooter Group uses four Kalmar Eco Reachstackers at its multimodal hubs in Venlo in southeastern Netherlands and Kaldenkirchen, situated just across the border in Germany. These terminals currently handle 24 trains a week, and the company plans to double that capacity over the next year.
"When we bought our first Eco Reachstacker, it was the latest step in a series of innovation initiatives to reduce our fuel consumption and emissions, as well as reduce noise levels at the terminals," explains Jeroen Cabooter, Head of Sales and Marketing.
Noise reduction is particularly important for the facility in Kaldenkirchen because of its proximity to residential areas. Using the Eco Reachstackers makes it possible for the company to handle trains during evening hours.
"The drivers who are now using the new machine versus the older one, are extremely excited because it's like giving them a Ferrari versus an old Volkswagen. It's really a new generation machine. The usability is very good also in terms of the control they have of the machine. They feel very safe operating it and it is comfortable. Everything is better, the whole environment, it is really the top-end of the market," says Peter Pardoel, Business Development & Operation Excellence, Cabooter Group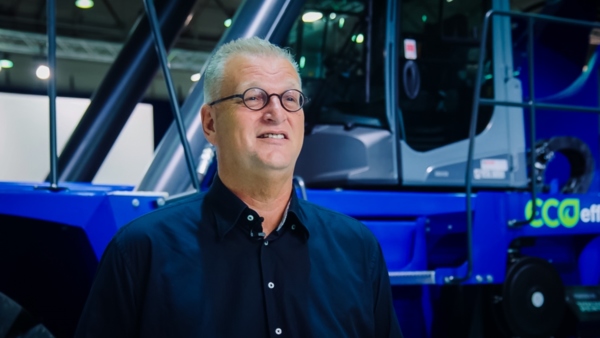 Fuel consumption cut by nearly half
Data from the Kalmar Insight performance management tool indicates that the new reachstackers use 35% less fuel than the Kalmar reachstackers they replaced, while fuel consumption per load has fallen by almost half (46%).
"This is a significant competitive advantage in terms of the total cost of ownership," says Cabooter. "We use a considerable volume of fuel every year, and every percent in reducing consumption adds up to a considerable amount."
The Eco Reachstackers are not only more fuel efficient and quieter than the machines Cabooter was previously using. They are also easier to operate with a smoother driveline. "It is a constant challenge to find the right people to operate our machines, so from an employer branding perspective, it is a significant advantage to offer a more user-friendly operator experience."
High levels of uptime are also vital. "Productivity is one of the main pillars of our operation, so the reliability of the Eco Reachstacker is a key contributor to minimising downtime," says Cabooter, who notes that using these four Kalmar Eco Reachstackers has enabled the company to reduce its annual CO2 emissions by 140 tonnes.
Kalmar Fuel Savings Guarantee
"Eco Reachstacker users can also avail themselves of the Kalmar Fuel Savings Guarantee, which guarantees to substantially reduce fuel consumption and costs, lower emissions and help customers to meet current and future emission standards without compromising performance or productivity," explains Mette Kjems Baerentzen, Portfolio Manager, Kalmar.
Calculations are based on five main inputs from the customer:
• Load handling, tonnes per move (average)
• Driving distance (cycle), metres per move (average)
• Moves per hour (average)
• Running hours per year
• Fuel cost in €/litre
The Kalmar Fuel Savings Guarantee contract includes operator training provided by a Kalmar certified trainer and three years of Kalmar SmartFleet, a process automation solution that improves operational transparency and reduces downtime through remote equipment monitoring and reporting. It also comes with two eco-efficient driving options: automatic engine stop when idling, and a speed limitation system.