13 abril 2022
Reading time 3 minutes
Empowering logistics: Thirty years at Kalmar and still counting
When Mikael Granlöf was a teenager, he changed the gearbox in his father's car. Forty years later, he's still doing that – and much more – on the next generation forklifts.
Mikael Granlöf, Prototype Technician at Kalmar's Innovation Centre in Sweden, has been intrigued by motors and vehicles that tickle his fancy and spark his imagination all his life, so it's little wonder that the kid who changed the gearbox in his father's car found himself working with forklifts and engines when he grew up. Granlöf is truly in his element at Kalmar.
"My father worked at Kalmar so I had the opportunity to do some short internships and even do my senior project there, so when I graduated from technical school, I applied for a job at Kalmar - and got it."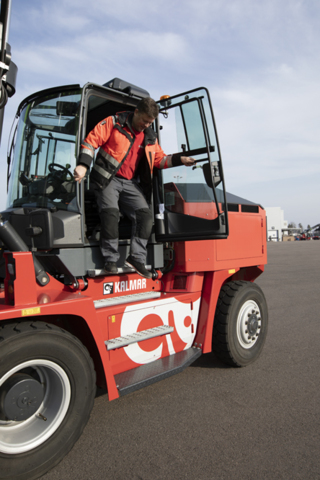 That was thirty-two years ago.
Today, Granlöf is working with prototype development at Kalmar's Innovation Centre in Ljungby in southern Sweden. The Innovation Centre puts all the expertise in mobile equipment solutions under the same roof, which had previously been scattered in three different locations.
"I began my career here at the assembly, then did my military service and then returned to a job in the prototype department. After ten years there, I switched to testing, and then five years ago, I moved to the Innovation Centre where I run tests and build equipment," Granlöf says.
Teamwork and development
There are approximately 200 employees at the centre who will celebrate its fifth anniversary next fall.
"We have different competencies and skills here, including marketing and production, and thirteen people working with prototypes."
"We work closely with the marketing department which has the closest contact to the end users. We get suggestions and customer requirements from them, and then we try to develop a product to meet those requirements," he adds.
A prototype doesn't mean a completely new product. With complex products such as forklifts, there can be innovation in different parts of the product. Sometimes it's the cabin, at other times, the batteries.
"Sometimes we test just parts of vehicles, for example, only the crane," he explains.
And that's what makes the work so interesting for someone like Granlöf, who not only enjoys being at the cutting edge of technical and technological development but also desires variety in his work to keep him sharp.
"I like it best when I get to do a little bit of everything so that the days are never the same. In this job, I also get to learn how the vehicles work, and since we have close contact with the customers, I also get to learn about their experiences," he says.
While certain testing and other projects can take a year or more to complete, the day-to-day work varies.
"I work closely with two people in production, and talk to them about their visions. One project might concern certain test values over a long period of time, but it takes just a month of my time. Other projects can be even shorter," he says.
First-rate facilities
The innovation centre has an extraordinary test track where drivers like Granlöf can test new vehicles and push them to their top speed, experimenting with their tilting points and conducting other tests. The track can handle loads up to 160 metric ton.
"I'm one of two test drivers here, and if we simply have to drive a vehicle to get some hours on the engine, then it's either myself or Johan who do it, even though we also do smaller jobs to help others.
"I love driving the forklifts, I've done it for a long time, and I'm pretty good at it, but unfortunately, I've had some back problems which sometimes crop up after a long test run. And that's when it's nice to have that variety in my job," Granlöf says.
"You have to stay curious and want to continually learn new things."
Innovation takes time and patience
While product development projects are long, time does fly.
"Product development happens in increments, and sometimes you have to stop and think about how much things have changed. I've kept an old instruction manual from the late 1980s that we used when I first joined the company -- and it's not very thick. Today's manual is two centimeters thick."
Over the years, he's completed several training programs.
"You have to stay curious and want to continually learn new things. I've taken training courses in electronics, gearboxes and hydraulics. I've also given training sessions myself," he says.
Granlöf is not the only person at the prototype department with decades of experience under his belt.
"I think the person who's been here the longest has worked at Kalmar for 35 years, and the one who's the latest in has worked around 25 years," he says.
When he leaves work, Granlöf heads to the gym for a workout. He says that he can usually leave work problems behind when he heads to the gym.

But sometimes, a solution to something comes to me just as I'm about to fall asleep."