15 febrero 2019
Reading time 3 minutes
Powering the port of the future: Rethinking energy management at container terminals
Are you looking to improve the predictability of energy usage, get fewer interruptions and improved productivity for your terminal? High-powered fast charging technology could be the answer.
Today's container terminals face continuous pressure to improve their performance and cost-efficiency, while simultaneously needing to meet increasingly stringent emissions regulations. Battery-powered all-electric equipment is the obvious future solution for horizontal transportation of containers, but existing solutions have been limited by long battery charge times or costly and complicated battery swapping systems.
High-powered fast charging technology (Kalmar FastCharge™) offers a realistic way for terminals to electrify their horizontal transportation while maintaining optimum performance. However, terminals often face uncertainty on whether their electrical infrastructure can handle the considerable peak loads of heavy container handling equipment with fast-charge technology.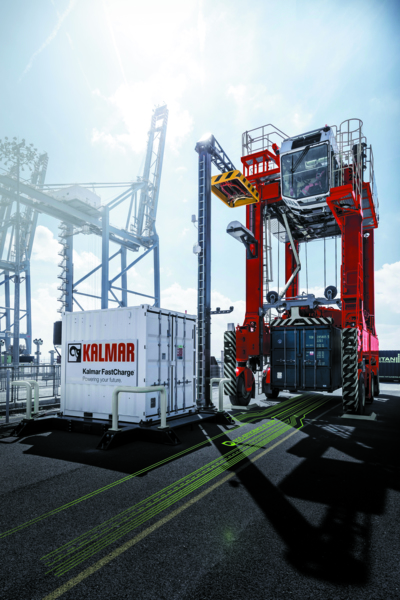 "A terminal's energy system involves an interaction between the feeding electricity grid, the management and control systems, and the electrical load in the form of container handling machines," says Juho Leskinen, Principal Engineer, Electrical R&D, Intelligent Horizontal Transportation Solutions, Kalmar. "With added intelligent solutions, this entire chain can be optimised for better predictability of energy usage, fewer interruptions and improved productivity. This kind of smart energy system will also enable terminals to deploy high-powered fast charging within their existing electrical infrastructure."
Adding intelligence to electrification
To support fast-charging battery-operated machines, charging stations and their associated infrastructure need to be put in place, which increases the peak power consumption of the terminal. Especially at existing (brownfield) terminals, the peak power drawn from the grid may become an issue if it exceeds the capacity for which the electrical system of the terminal was originally designed.
"The concept of the future port encompasses numerous challenges, of which energy and its management will be one of the hardest, but also one of the most rewarding," says Henrik Häggblom, Director, Equipment, Intelligent Horizontal Transportation Solutions, Kalmar.
"The practical answer to solving the challenge of terminal energy balance is to add intelligence to the complete power and energy management system all the way from the grid to the final load. The load can even be a temporary source of power, not only through regenerative energy harvesting, but also thanks to the inherent energy storage capabilities of battery-operated machines."
The next step is to add in some form of stationary energy storage, which stores, for example, the regenerative power from all types of connected machines and redistributes it based on request, either to other loads or back to the power grid. When supplemented by active data monitoring from all points of the energy chain as well as smart automated functionality, on-site energy storage capacity becomes one part of an integrated energy management system while enabling container handling operations at the terminal to become locally free of exhaust emissions.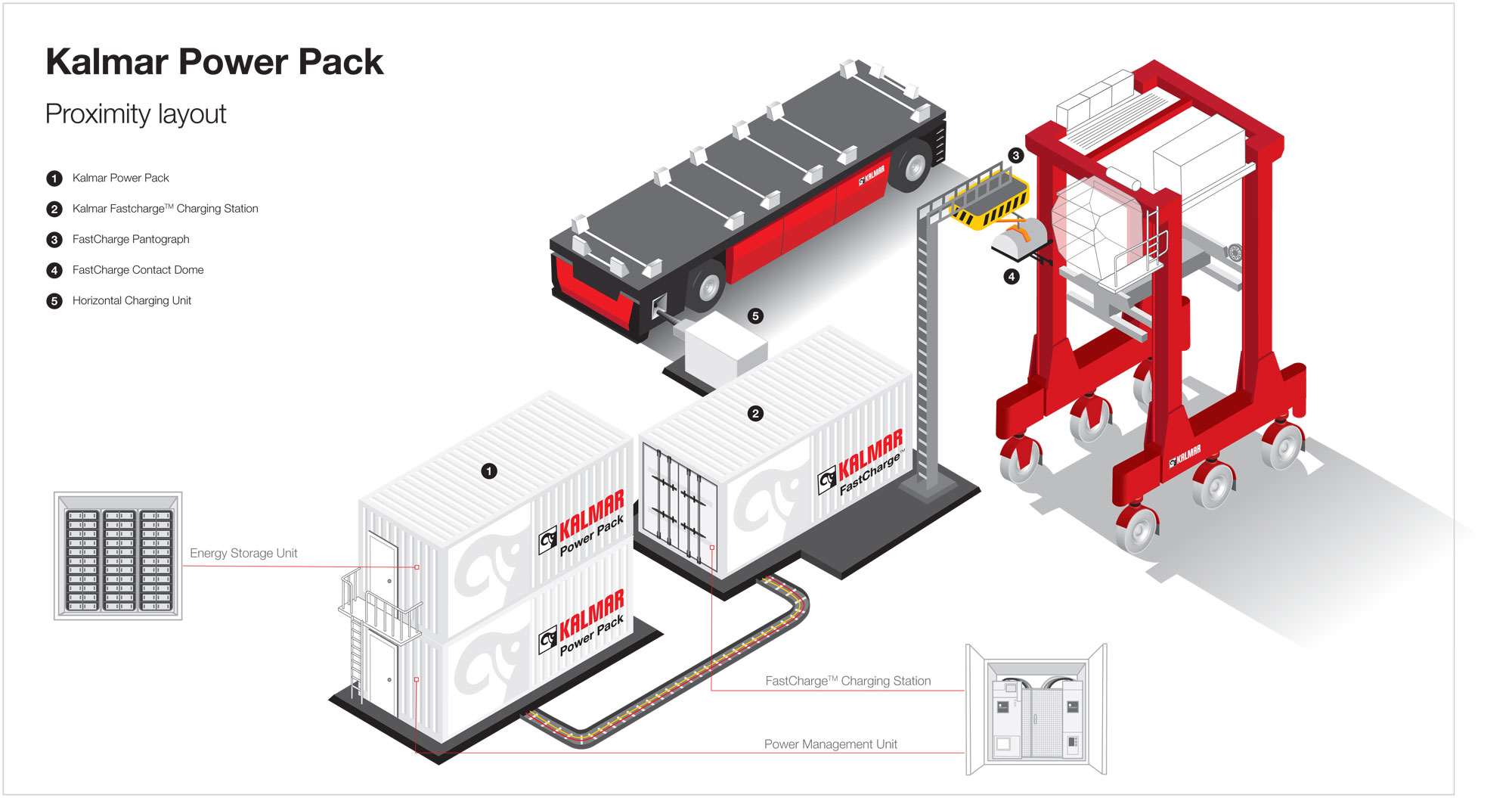 Re-imagining terminal electrification
Horizontal transportation operations have many variables in predicting energy consumption, such as changes in the travelled distance; acceleration and deceleration rates; container weight variations; cyclic operation of auxiliary loads, and environmental conditions. This results in a degree of energy uncertainty for battery powered machines, which can be addressed by using high-powered opportunity charging.
"From our experiences in electrifying horizontal container transportation, it's clear that charging of onboard batteries has to be quick and needs to take place along the natural route of the machine. This maximises machine availability and allows flexible task scheduling," says Juho Leskinen.
"The future of container handling is, without a doubt, electric," notes Henrik Häggblom. "However, until now, the discussion has focused largely on the technical details of equipment design as well as developments in charging and battery technology. The equipment and systems already available today give the possibility of looking at things from a wider vantage point, not only improving the energy efficiency of individual components, but also changing the entire terminal energy chain for the better, for good."
This article is a summary of the Kalmar white paper Energy management and battery powered horizontal transportation at container terminals.